Patient Care Technician Program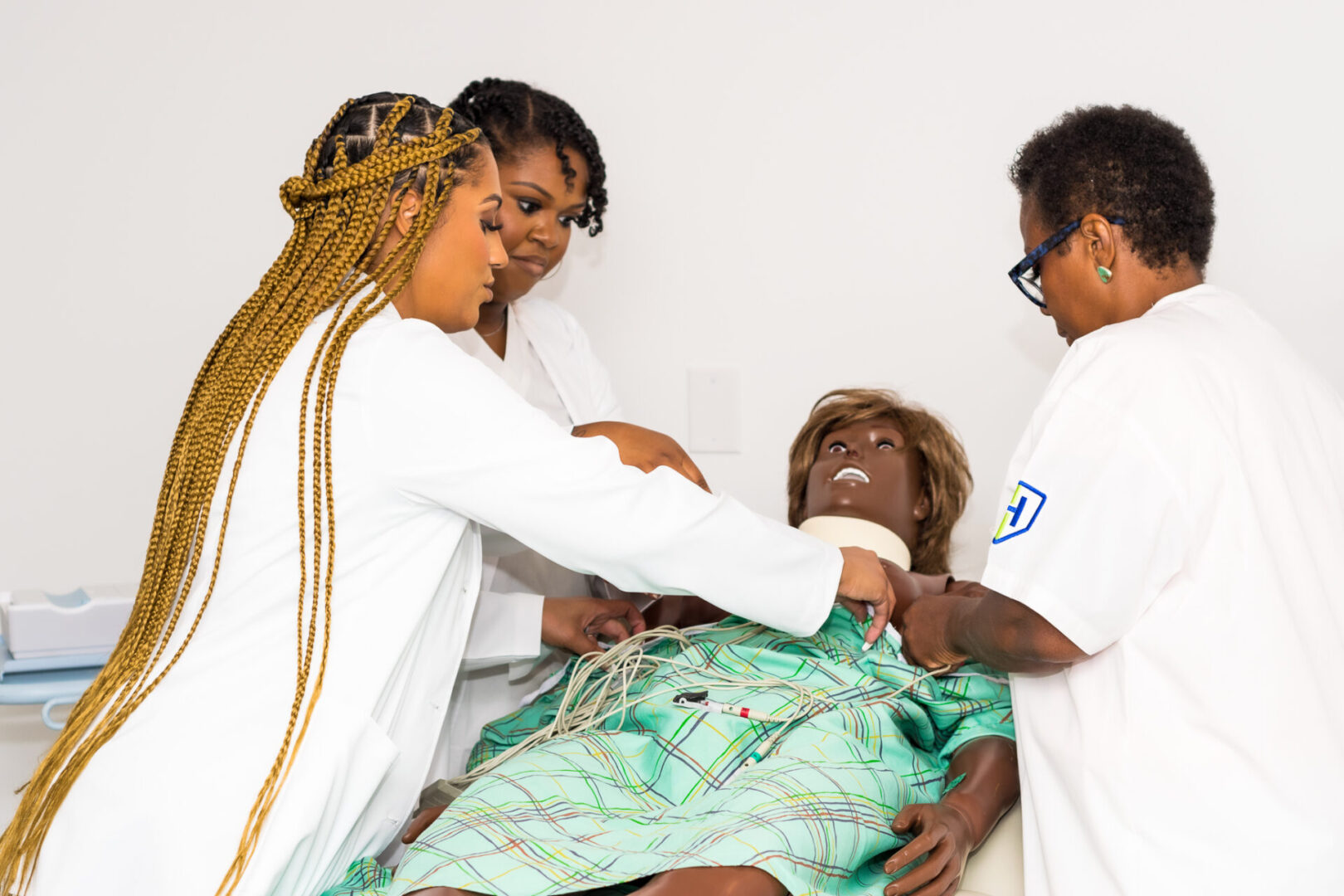 What Does a Patient Care Technician Do?
A Patient Care Technician works directly with patients and their families to complete medical tasks and ensure they receive quality care. Daily tasks include measuring and monitoring vital signs (temperature, pulse etc.) or obtaining EKG's signal, obtain blood and other fluid samples, assist nursing staff in administering basic treatments, assist patients with everyday needs such as personal hygiene, using the restroom and grooming. They also keep patient rooms tidy and sanitized and provide appropriate emotional support to patients. Patient Care Technicians usually work in a wide range of facilities which include: hospital, assisted living facilities, home health, labs, and doctors offices. 
How Much Does a Patient Care Technician Make?
The average Patient Care Technician salary in Georgia is $33,814 as of September 26, 2022, but the range typically falls between $29,462 and $37,810. Salary ranges can vary widely depending on the city and many other important factors, including education, certifications, additional skills.
Must be 18 years of age or older

GED or High School Diploma or
Do I Need any Prior Medical Training?
No. Being a Certified Patient Care Technician only requires a high school diploma or GED.
180 hours of in-person theory

Day Class: 9:00am-4:00pm
M-Th (12.5 weeks)

Evening Class: 5:00pm-9:00pm
M-Th (19 weeks)
 Payment plans are built based on the students start date. First payment due date may vary.

H.E.R.O will not run a credit check.

H.E.R.O does not charge an interest rate but tuition must be paid in full prior to starting class. 

Availability is based on enrollment date. Please contact our office for more information. ( 770 726-3577)
Three months grace period for loan repayment.

Meritize will run a soft credit check.

Interest rate vary base on merit. (if you have a co-applicant, degrees, certifications, etc. You can increase your chances of approval and/or improve your interest rates.

Reason for application decline: History of repossession or bankruptcy.
Payment plan begins immediately. Payment plan consist of 24 monthly payments of $150.

Klarna will run a credit check.

Klarna's interest rates range from 0-28.99% based on credit check.

Klarna's Financing products are issued by WebBank (member FDIC) in partnership with Klarna. The approval decision is based on Transunion credit score as well as multiple internal data points such as past payment history. Connecting your bank account may improve your approval chances. Reason for application decline: Bad current standing with Klarna
Payment plan begins immediately. Initial payment of $318 then pay $318 per month for 12 months.

Denefits will not run a credit check.

Denefits has a 19.9% interest rate and 3% transaction fee.
Patient Care Tech Day Courses
| | | | | |
| --- | --- | --- | --- | --- |
| April 10th, 2023 | May 10th, 2023 | July 3rd, 2023 | July 5th, 2023 | July 6th, 2023 |
| July 17th, 2023 | August 17th, 2023 | September 21st, 2023 | September 25th, 2023 | September 26th, 2023 |
| | | |
| --- | --- | --- |
| April 3rd, 2023 | April 10th, 2023 | July 3rd, 2023 |
| July 10th, 2023 | July 17th, 2023 | September 21st, 2023 |
Patient Care Tech Evening Courses
| | | | | |
| --- | --- | --- | --- | --- |
| February 20th, 2023 | May 3rd, 2023 | July 11th, 2023 | July 12th, 2023 | July 13th, 2023 |
| May 1st, 2023 | July 13th, 2023 | September 12th, 2023 | September 13th, 2023 | September 14th, 2023 |
| | | |
| --- | --- | --- |
| February 13th, 2023 | February 20th, 2023 | July 11th, 2023 |
| April 24th, 2023 | May 1st, 2023 | September 12th, 2023 |